The Liberal Party is in a strange and damaging spiral that seems to pick up speed every time Peter Dutton tries to lift the party out of its dive.
The opposition leader has seen no dividend from his decisions to fight hard on the Indigenous Voice, commit his party room to a conservative agenda and oppose new laws on climate change, industry, housing and wages.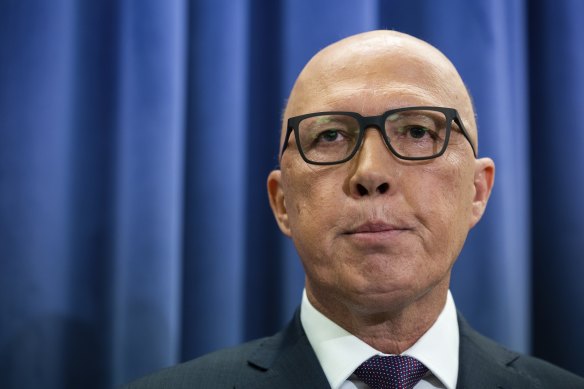 The approach is certainly keeping Dutton and his colleagues in touch with their base – by pointing their aircraft towards the ground and hitting the accelerator.
It is not working. The evidence is blindingly clear. Almost a year after it lost power, the Coalition is down to a primary vote of 28 per cent, six points below its election result. And Dutton has failed to win over Australians. His performance rating is minus 28 per cent, his worst yet.
Dutton is reaping the reward from his own decisions. He began the year by making the Voice his dominant concern, with several weeks of campaigning before parliament met in February. He has challenged the government on the cost of living and energy bills, but spends much more time on the constitutional reform.
Loading
Consider the opposition leader's reaction to the Liberal Party's defeat in the Aston byelection on April 1, the once-in-a-century loss in a suburban electorate in Melbourne's mortgage belt.
Liberal backbenchers responded by calling for a sharper focus on housing policy, an end to culture wars and a stronger agenda on the cost of living. Dutton responded by calling a snap meeting of the party room on the Voice and deciding on a policy that forced his Indigenous Australians spokesman, Julian Leeser, to step down from shadow cabinet.
Dutton was at it again last week: he visited Alice Springs to talk about law and order, primarily a state and territory concern. The Resolve Political Monitor, which was in the field at the same time, found Dutton and the Coalition slumped on every key measure from primary vote to personal and policy performance.