A popular brand of almond milk is being urgently recalled from shelves around
New South Wales
after the product was linked to a case of botulism.
Inside Out almond milk, which is sold at
Woolworths
, is being removed from stores over fears bottles may contain botulinum, a neurotoxin capable of causing disease.
NSW Health
has since confirmed one case of botulism – a rare but deadly illness caused by toxins that attack the body's nerves – has been linked to the product.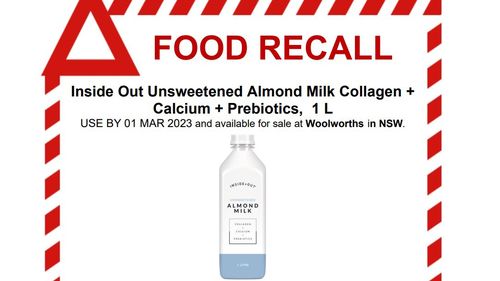 The person suffered from "severe symptoms" and was admitted to hospital, they currently remain.
Keira Glasgow, Director of NSW Health's One Health branch, said the illness can be fatal.
"Early symptoms of foodborne botulism include weakness, fatigue and vertigo," Glasgow said.
"While these symptoms occur commonly due to a number of health conditions, with botulism it is usually followed by blurred vision, dry mouth and difficulty swallowing. Nausea and vomiting may also occur.
"These symptoms can progress to paralysis of the arm muscles and continue down the body to the trunk and legs, and paralysis of breathing muscles can be fatal.
"We are urging anyone who has consumed this product and experiences these serious symptoms to seek immediate medical attention."
Glasgow warned that "most cases" can recover if they're treated early.
"In foodborne botulism, symptoms may begin from a few hours to several days after consuming the contaminated product," she added.
Affected bottles contain the use-by date marking of March 1, 2023.
The warning comes a day after a basketball ring set, that was for sale at leading sports stores around the country for two-and-a-half years, was also recalled.
In late January, Hyundai recalled thousands of cars to fix a software glitch affecting the "fail-safe" driving mode, a fault which has the potential to cause a crash.
Sign up here
to receive our daily newsletters and breaking news alerts, sent straight to your inbox.