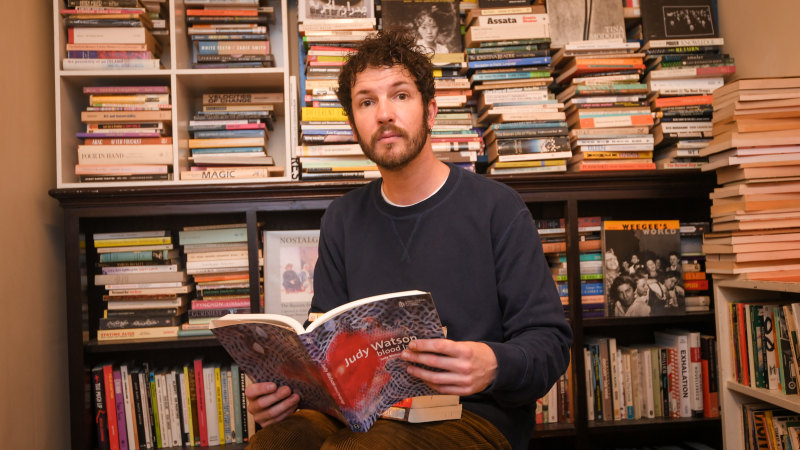 Lloyd began, as he says, "slinging books" from his personal collection, which has now expanded to include finds from op shops and private sales. "I'll pick up whatever I'm curious or excited about. Whatever is interesting to me. I don't really worry about it," he says.
Loading
This attitude has resulted in an array of customers, including artists, musicians, writers, academics, students and collectors. Many are based in Melbourne, yet there are others who hail from regional Victoria and interstate. "I've got some really loyal international customers, which is humbling and bizarre," Lloyd says. "Overall it's a base group of patrons who support what I'm doing."
Lloyd's love for books is apparent. Growing up in a small town in Gippsland, his local library was an invaluable source. In 2011, he moved to Melbourne to study social science. "I had no practical experience when I finished," he recalls. "[I] did a bunch of unskilled jobs—on production lines, in kitchens, and got into a rut with it all. But I'd keep reading to stave off the boredom."
Beginning with authors such as Kurt Vonnegut and Charles Bukowski as a young adult, he moved on to books by Amiri Baraka and Georges Perec. "Over time, my tastes probably got more avant-garde, a lot more surrealist," he laughs. "I hope to replicate that kind of exploratory feeling with Book Runner. Try to have some books and writers that people haven't necessarily heard of; they might find it's their new favourite writer."
As the world has reopened, Lloyd has begun to set up shop at small art markets to supplement his online sales. He's also partnered with alternative bricks-and-mortar stores, such as Rowdy's record shop in Northcote, where he stocks a selection of music-related titles from his collection. "It's fun being outside, getting to meet and build connections with other small business owners. It's also a good opportunity for people to be able to pick things up. Feel them, flick through them, make sure they don't have that old-moth smell. Make sure they're not riddled with silverfish," he adds with a wink.
Through the business, Lloyd has struck up several friendships, including with local writers and zine-makers as well as fellow book lovers: "people you wouldn't meet otherwise, or might have just been strangers in the same venues."
Asked if Book Runner is a way to subvert the algorithmic culture many people now find themselves subjected to online, Lloyd agrees. "I love the excitement of discovering new things whether it's with music, books, film, art. I love the surprise and enthusiasm," he says.
The Booklist is a weekly newsletter for book lovers from books editor Jason Steger. Get it every Friday.