During the trial, one victim said the abuse had destroyed her childhood innocence, while another said the assaults made her feel dirty, grubby and disgusting. Others described how they had struggled to move on, with one saying the abuse had haunted her.
"You have shown no remorse for your crimes at all," the judge said in his sentencing. "Your reputation now lies in ruins, but you have no one to blame but yourself.
A second trial in 2017 examined a further set of allegations. In that case, a jury found that Harris was not guilty of indecently assaulting a young autograph hunter when she visited him at a radio station in Portsmouth with her mother at the end of the 1970s; not guilty of groping a blind and disabled woman at Moorfields Eye Hospital in London in 1977; and not guilty of sexually assaulting a woman in her 40s after the filming of a TV show in 2004.
Later the same year, one of the 12 original indecent assault convictions was overturned by the Court of Appeal.
Harris had not spoken publicly since his release, but last year provided a statement for a book written by a private investigator, William Merritt, about the trial.
"I understand we live in the post-truth era and know few will want to know what really happened during the three criminal trials I faced – it's easier to condemn me and liken me to people like (Jimmy) Saville and (Garry) Glitter," the statement read.
"I was convicted of offences I did not commit in my first trial. That is not just my view but the view of the Court of Appeal who overturned one of my convictions. It is difficult to put into words the injustice that I feel."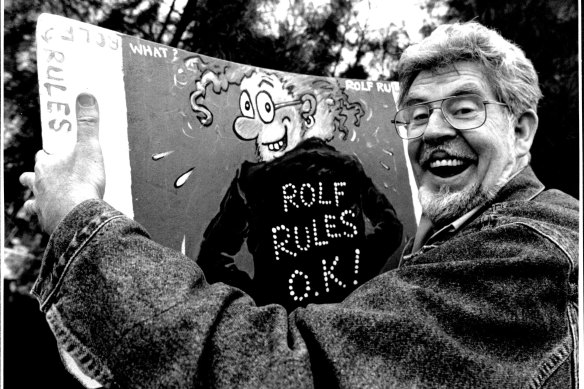 A new documentary on British television last week aired more allegations against the convicted sex offender, including that Harris warned his daughter Bindi's friend – who he was abusing – to "tread carefully" because he was powerful and wealthy.
The program, Rolf Harris: Hiding In Plain Sight, claimed Harris led a toxic double-life, molesting contributors and crew on the shows he worked on for years, with his assaults becoming gradually more serious throughout his excelling television career in the 1970s and '80s. This public persona of a non-threatening eccentric who was devoted to his wife ran counter-narrative to a view within the entertainment industry that Harris was known as "a creep".
Loading
Born in Perth, Western Australia in 1930, where he was a junior swimming champion, he moved to London in 1952 to study art. He released 30 studio albums, two live albums and 48 singles in his career, which included recording with The Beatles. Two Little Boys, an American Civil War song, was the Christmas number one in the UK charts for six weeks in 1969.
In 1982, he performed at both the Victorian Football League grand final at the Melbourne Cricket Ground and the opening ceremony of the Brisbane Commonwealth Games.
Harris enjoyed a renaissance in the 1990s through a cover version of Led Zeppelin's iconic Stairway to Heaven, which reached number seven in the British charts and led to his appearance at the Glastonbury Festival in 1993. Harris appeared at six subsequent Glastonbury festivals –1998, 2000, 2002, 2009, 2010 and 2013 and performed at the Queen's Diamond Jubilee concert in 2012.