A senior defence official agreed with that assessment. Both officials spoke on the condition of anonymity about the top-secret document.
The report provides the most detailed evidence to date of what led to a flurry of public and private Biden administration warnings to Beijing beginning in late February.
China, which maintains it is neutral on the war in Ukraine, denounced those US statements and said it would never accept coercion or "the US pointing fingers" when Washington is funnelling massive amounts of arms into the war.
But the leaked document expands insight into Russia's deepening relationship with China, which is now Moscow's chief foreign friend as President Vladimir Putin's war in Ukraine leaves Russia increasingly isolated.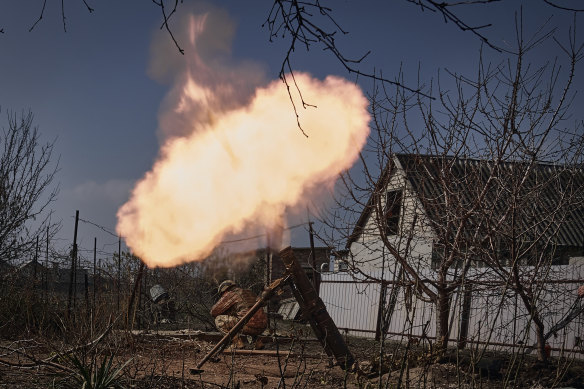 Although Chinese President Xi Jinping appeared to cement his relationship with Putin in a three-day visit to Moscow last month, China has held back from fully endorsing the Russian leader's effort in Ukraine, instead positioning itself as a potential peacemaker.
The United States and NATO have responded sceptically to Beijing's calls for a cease-fire and to its 12-point peace plan, saying no solution should allow Russia to "rest" and "rearm." Ukraine, meanwhile, demands that any negotiated settlement respect its internationally recognised borders, which would require Russia to withdraw from Crimea and other occupied areas of Ukraine.
A separate US intelligence assessment from the same period, part of a more widely circulated batch of Discord files, assessed that Beijing would view a "significant" Ukrainian attack on Moscow using US or NATO weapons "as indicative that Washington was directly responsible for escalating the conflict and possibly as further justification for China to provide Russia with lethal aid."
Ukraine is believed to have sponsored or supported a number of attacks inside Russia, and US officials say they have warned Kyiv not to use US or NATO-supplied weapons for any operation outside Ukrainian territory.
The revelations come at a time of heightened US-China tensions and strained communications between Beijing and Washington, particularly over Taiwan.
A planned trip to Beijing in early February by Secretary of State Antony Blinken was cancelled at the last minute after a Chinese surveillance balloon was spotted over military installations in the continental United States.
Loading
The balloon was subsequently shot down over the Atlantic Ocean by a US fighter jet, a response that Chinese Foreign Minister Wang Yi called "hysterical" and an "effort to divert attention away from domestic problems".
On several recent occasions, Biden has said there is no evidence of lethal supplies from China going to Russia.
"I've been hearing now for the past three months about China's going to provide significant weapons to Russia," Biden said at a March 24 news conference in Ottawa with Canadian Prime Minister Justin Trudeau.
"They haven't yet – doesn't mean they won't – but they haven't yet."
The Washington Post
Get a note directly from our foreign correspondents on what's making headlines around the world. Sign up for the weekly What in the World newsletter here.