Zaboji, a 25-year-old pilot who lives in Washington, was finishing a run close by Lafayette Square when he heard the loud crash of the U-Haul truck hitting the barrier. He said he took out his phone and captured the moment the truck struck the barrier again before he heard sirens approaching.
"When the van backed up and rammed it again, I decided I wanted to get out of there," he said.
Officers from the Secret Service and the Metropolitan Police Department searched the truck after the crash. Video posted by WUSA-TV shows a police officer at the scene picking up and inventorying several pieces of evidence from the truck, including a Nazi flag.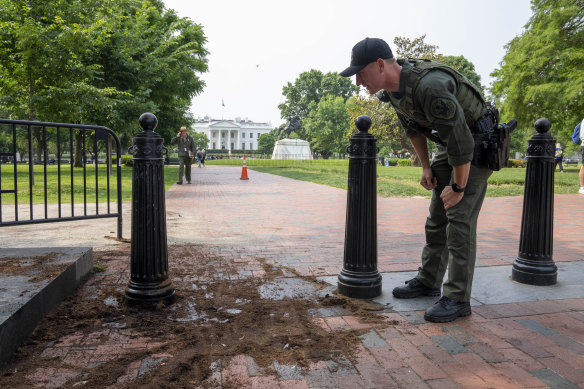 Based on a preliminary investigation, investigators believe the driver "may have intentionally struck the security barriers at Lafayette Square," the Secret Service said. Authorities offered no additional details about a possible motive.
The US Park Police said Kandula was arrested on multiple charges, including threatening to kill, kidnap or inflict harm on a president, vice president or member of their family; assault with a dangerous weapon; reckless driving; destruction of federal property; and trespassing.
Biden was briefed on the crash on Tuesday morning by the Secret Service and Park Police, White House press secretary Karine Jean-Pierre said. "He's relieved that no one was injured last night," she said.
The US Secret Service monitors hundreds of people who have made threads to the president, but it's not clear whether Kandula was on their radar at all or if he had threatened the president before, which would trigger the Secret Service's involvement.
No attorney was listed for Kandula in court records, multiple telephone numbers listed under his surname in public records were out of service, and efforts by The Associated Press to reach relatives who could speak on his behalf on Tuesday were not immediately successful. People at a Missouri home listed as being associated with Kandula would not speak with an AP reporter.
Lafayette Square, which offers perhaps the best view of the White House available to the public, has long been one of the nation's most prominent venues for demonstrations. The park was closed for nearly a year after federal authorities fenced off the area at the height of nationwide protests over policing following the killing of George Floyd in Minneapolis, but it reopened in May 2021.