Owners of the art deco Salisbury pub in Sydney's inner west have put the pub on the market to whet the appetite of buyers with its diverse income stream that includes revenue for an accommodation segment.
Sitting on the corner of Percival Road, Stanmore, the Salisbury is a three-storey, 1900s, art deco, freehold hotel on an 800-square-metre corner block with 20 accommodation rooms across two levels, and a popular outdoor beer garden. Together with 15 gaming machines, its generates about $95,000 per week and was last sold in 2018 for about $11 million.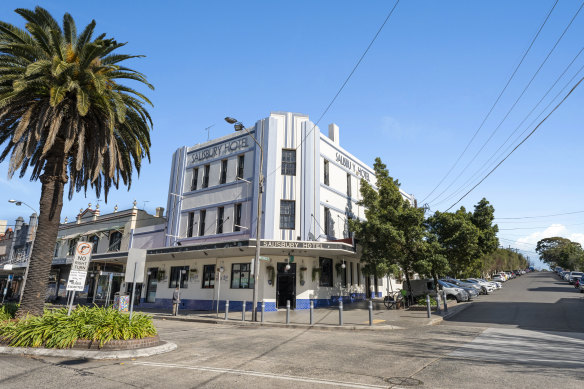 Current joint owners Gerard and Trish Dore, together with a private partner, have managed the pub from 2015 before buying it three years later. In 2016, the two owners undertook about $3 million in renovations. The Dores are well-known pub operators and also manage the Enmore and Henson Park hotels.
Gerard Dore said he was "not keen" to sell but the private partner is, "so we have to".
"If we owned it 100 per cent, we would keep the Salisbury for life, but the reality of life is we are in a partnership, and they want to sell," Dore said. It's a gorgeous pub with a wonderful community spirit."
At the time of the purchase eight years ago, Dore said: "We fell in love with the old building. I couldn't do a pub just as a business, I have to love it".
He said future management of the pub depends on the new buyer.
JLL senior vice president Kate MacDonald and executive vice president Ben McDonald are advising on the sale and said supporting over 7,500 residents, the Salisbury Hotel stands as the only pub in this popular locality, with suburbs including Annandale, Enmore and Newtown as close neighbours.
MacDonald said the Salisbury Hotel was one of the inner west's "favourite community pubs".