Scott Morrison has made a rare intervention in public debate over the Voice to parliament, warning it will permanently create "different rights for one group of Australians over others, based solely on race".
Morrison, who until Wednesday had spoken just twice in parliament since losing the prime ministership a year ago, said the constitutional change would have the opposite effect of previous initiatives including the landmark 1967 referendum in which the Constitution was changed to give Indigenous Australians the same rights as all other Australians.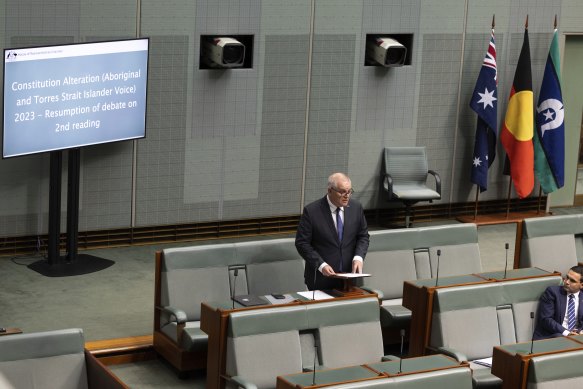 The former prime minister said the Voice was ill-defined and would create significant constitutional risk and "ultimately the High Court will be left to decipher the unknown and decide what this will all mean, long after Australians have cast their vote, with no further say".
The passionate Cronulla Sharks fan also took a swipe at sporting codes such as the NRL, which have recently declared their support for the Voice proposal.
"This referendum is not a vote about whether Australians wish to support and do everything they can to recognise and improve the lives of Indigenous Australians. We all agree on this, and we can all say yes to this. But that is not the question the government is proposing for this referendum," he said.
Morrison said his contribution to the parliament debate on the Voice legislation was offered "as one Australian to another". His tone was markedly different to the fiery speech delivered by Opposition Leader Peter Dutton on Tuesday, which denounced the proposal as a regressive and a radical threat to Australian democracy.
"This referendum is also not a decision for companies, unions, sporting codes or any other group," Morrison said.
"While keenly interested in the NRL's opinion on hip-drop tackles and the six-again rule, I respectfully won't be deferring to the NRL for constitutional advice to guide my decision."