The Victorian government paid $2.8 million for major state funerals last year, with legendary Australian cricketer Shane Warne's spectacular MCG send-off costing taxpayers $1.6 million, according to newly released government documents.
Warne's funeral was the most expensive state memorial service last year, with media personality Eddie McGuire's JAM TV production company paid $1 million to stage and broadcast the star-studded event.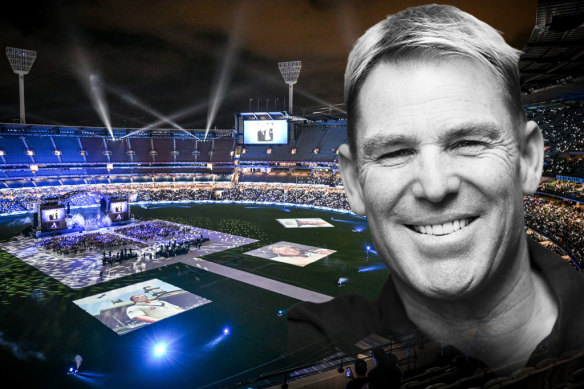 Documents obtained under freedom of information laws by The Age show Warne's memorial was almost triple the cost of the second most expensive state funeral in 2022 – the farewell for four police officers killed in the Eastern Freeway tragedy. That service at Marvel Stadium cost $584,204.
The third most expensive state funeral was for acclaimed Indigenous musician Archie Roach at the Sidney Myer Music Bowl ($254,170), followed by First Nations elder Uncle Jack Charles at Hamer Hall ($129,115), Seekers singer Judith Durham at Hamer Hall ($79,567), boxer John Famechon at Festival Hall ($67,347), and former Andrews government minister Jane Garrett at Brunswick Town Hall ($50,136).
The state memorial for Olivia Newton-John was held this year and its exact cost was not obtained by The Age, but a preliminary planning document from the Arts Centre in December suggested a proposed budget of up to $500,000.
Smaller state memorial services were also held last year for former governor and runner John Landy, and state politicians Tom Reynolds and Ronald "Bunna" Walsh. The exact cost of these funerals is unclear as The Age was asked to narrow its initial freedom of information request. However, the three additional services at smaller venues are not expected to add significantly to last year's total cost for state memorials.
It is not known whether Warne's $1.6 million state funeral is the most expensive in Victorian or Australian history, but few others have matched it as a TV spectacle. More than 50,000 people filled the MCG for the two-hour event featuring panel discussions, emotional speeches from family and friends, and performances from musicians such as Elton John and Ed Sheeran.
Alongside the $1,013,191 paid to JAM TV for production and staging, $420,993 was paid to the Melbourne Cricket Club for MCG venue costs. Peter Jones Special Events – an event management company – received $89,934.