Vladivostok, Russia: One of Russia's most active volcanoes erupted on Tuesday shooting a vast cloud of ash far up into the sky and smothering villages in drifts of grey volcanic dust, triggering an aviation warning around the far eastern Kamchatka Peninsula.
The Shiveluch volcano erupted just after midnight, Moscow time, reaching a crescendo about six hours later, spewing out an ash cloud over an area of 108,000 square kilometres, according to the Kamchatka Branch of the Russian Academy of Sciences' Geophysical Survey.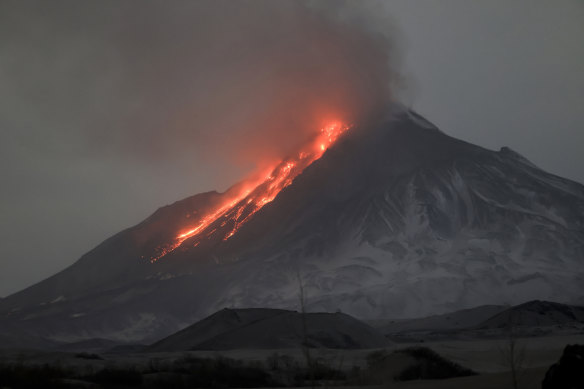 Lava flows tumbled from the volcano, melting snow and prompting a warning of mud flows along a nearby highway while villages were carpeted in drifts of grey ash as deep as 8.5 centimetres, the deepest in 60 years.
"The ash reached 20 kilometres high, the ash cloud moved westwards and there was a very strong fall of ash on nearby villages," said Danila Chebrov, director of the Kamchatka branch of the Geophysical Survey.
"The volcano was preparing for this for at least a year… and the process is continuing though it has calmed a little now," Chebrov said.
He said the volcano would probably calm now, but that further major ash clouds could not be excluded. He said lava flows should not reach local villages.
The Kamchatka Volcanic Eruption Response Team (KVERT) issued a red notice for aviation, saying "ongoing activity could affect international and low-flying aircraft".
Some schools in the Kamchatka peninsula, about 6800km east of Moscow, were closed and residents ordered to stay indoors, head of the Ust-Kamchatsky municipal region Oleg Bondarenko said in a Telegram post.