Fresh delays of up to two years and added cost blowouts have hit the federal government-owned Snowy 2.0 pumped hydro scheme, which may not now reach full commercial operation until 2029.
In a statement on Wednesday, the project's developer, Snowy Hydro, said the giant energy project's scheduled completion date of December 2028 had been pushed back by a year, with likely "cost impacts beyond the contingency allowed".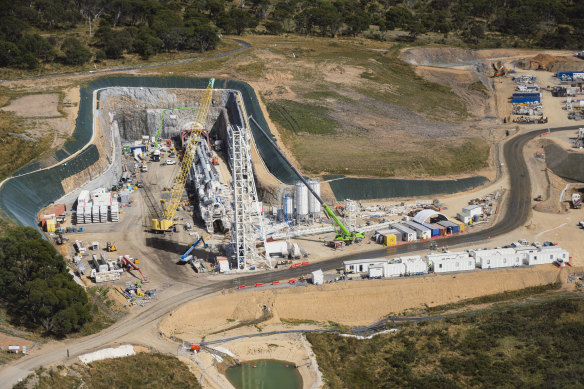 It attributed the latest delays and cost increases to the effects of COVID-19, supply chain disruptions, design and geological issues.
Snowy 2.0, which will use flowing water to spin turbines connected to generators, is considered an important project for integrating the nine-fold increase in wind and solar power required to decarbonise the fossil fuel-dominated electricity grid.
The project will use surplus electricity to pump water uphill and then release it when demand is high and supply is low, such as when the wind is not blowing and the sun is not shining.
Loading
However, the $5.9 billion project is already running behind schedule and mounting delays have contributed to the Australian Energy Market Operator's worries about the east coast electricity grid's ability to cope with the impending closures of several of Australia's large coal-fired power stations in coming years.
Up to five-coal fired power stations, including the Yallourn generator in Victoria's Latrobe Valley, NSW's Liddell, Eraring and Vales Point power plants, and Queensland's Callide B, are expected to shut down this decade, removing 13 per cent of the east-coast grid's generating capacity.
The new delays add to growing concerns across the industry about the risk of electricity supply gaps widening in the coming years. According to the Australian Energy Market Operator (AEMO), gas in the market begin to emerge from 2025 – first in NSW due to Origin Energy's possible closure of Eraring, then in Victoria from 2026 because of the closure of two gas-fired power stations in South Australia.