Indigenous leader and AFL executive Tanya Hosch revealed she had part of her lower leg amputated two weeks ago and was released from hospital on Tuesday, just a day before she gave an impassioned speech at the launch of the Voice campaign in Adelaide.
Hosch is involved in the Yes campaign and spoke at the Voice date launch event in Adelaide, just after Prime Minister Anthony Albanese confirmed October 14 as the day Australians would vote in the referendum.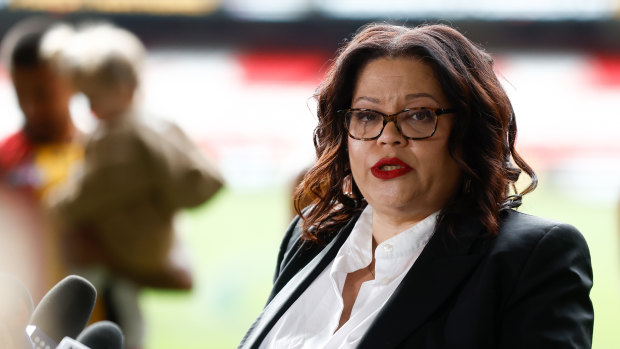 "I want to share a deeply personal and real story," she said. "It's too easy to speak of numbers without speaking about people and families and communities."
"A little over two weeks ago, I had my lower right leg amputated and so having left the hospital … only yesterday, I'm standing here on one leg today."
Hosch, who drew a standing ovation, said the proposed Voice advisory body would improve the experience of Indigenous people in the health system.
"I have type two diabetes and I contracted a related disease that I have battled for three years and across six surgeries trying to avoid the loss of my limb."
"I'm not without privilege and access to services, but still the service design let me down. I know that if we already had a permanent Voice in place, there would be people around that table that understand my story, my experience and what could make things better and different for me and for people like me."
The 50-year-old has been a South Australian state recipient of the Australian of the Year award and held leadership roles in sport, culture, social justice and public policy. She was the first Indigenous person to be appointed to the AFL executive.