Healy ebulliently belts the band's dance-inducing hits including Looking For Somebody (To Love) and The Sound, with fans faithfully in tow, echoing the lyrics. But the songwriter also taps into his pain for melancholy numbers like Somebody Else.
His fervour sometimes appears to verge on the edge of a mental breakdown, as he lights another cigarette, takes another sip. Perhaps it's all part of show business.
While the show surrenders control and precision to Healy's mischief as he plays with the camera and freestyles his monologue, the medley of instrumental and vocal talent rarely falters.
The cigarettes do little more than pronounce Healy's rasp in songs where such nuance simply adds character, and his tenor voice is flexible and beautifully complemented, in particular, by backing vocalist Polly Money.
The musicians hop effortlessly from one instrument to another, with the saxophone jazz-up in I'm in Love With You, a spotlight on the drummer George Daniel in Love It If We Made It and Adam Hann's guitar solo in Give Yourself A Try among the highlights.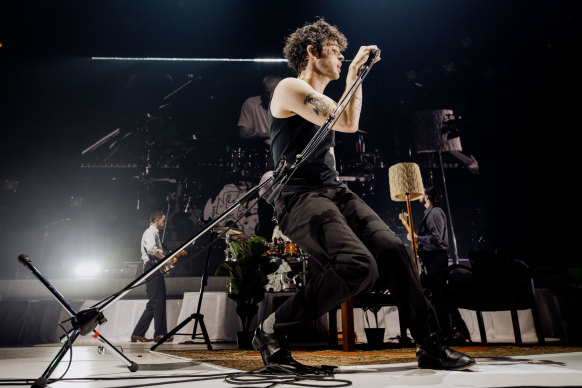 The latter, alongside crowd-pleaser Sex, from the band's debut album, close the curtain on the band's repertoire for the night and, by some miracle, Healy has not been carted off after his cocktail of cigarettes and spirited singing.
Loading
The 1975 is not perfect, but they are refreshing. It's a band that endears and endures through songs with titles like Be My Mistake and by pushing aside pretence to embrace their pain.
The 1975 plays in Brisbane on Saturday, April 15, before returning to the Sydney SuperDrome on Sunday, April 16.
CLASSICAL MUSIC
Donald Runnicles Conducts Brahms 2. Sydney Symphony Orchestra. ★★★★
Opera House Concert Hall. April 14.
Idyllium by German composer Detlev Glanert starts with an almost inaudible whistling violin harmonic, a quiet bump from the double basses, a halting snippet on the flute – all of them diffuse and scattered like fragments blown away.
Gradually the work assembles other ideas – a cross-rhythmic shuffle on brass turning awkwardly like unoiled cogs, and a more expansive melody on strings, until, towards the end, the music coalesces in an unmistakeable quotation from the close of Brahms' Second Symphony.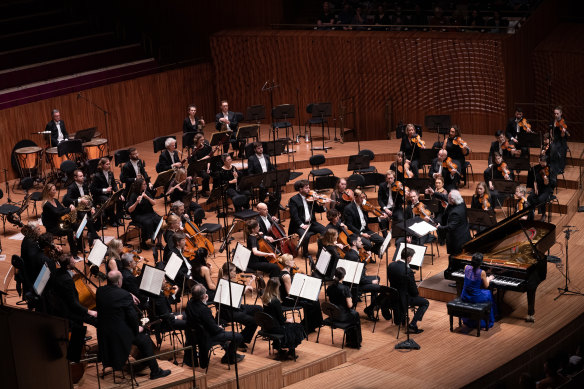 Then, as though that was the thing it had been trying to remember all along, the music relaxes with quiet swaying on clarinets like a detuned distant bell. We had been told in the program and in a welcome speech by Principal Cellist Catherine Hewgill that the whole piece was built from 'microparticles' from the Brahms symphony.
And, yes, since you mention it, there were fleeting similarities, notably with the second theme of Brahms' work which itself resembles the composer's famous Lullaby.
Yet there is a danger in listening too closely for Brahms, lest one becomes like a trainspotter who notices only the locomotives and misses the glowing sunset.
The close of this concert certainly glowed with a full performance of Brahms' Second Symphony which opened out expansively with superb balance, unhurried flow and apt emphasis.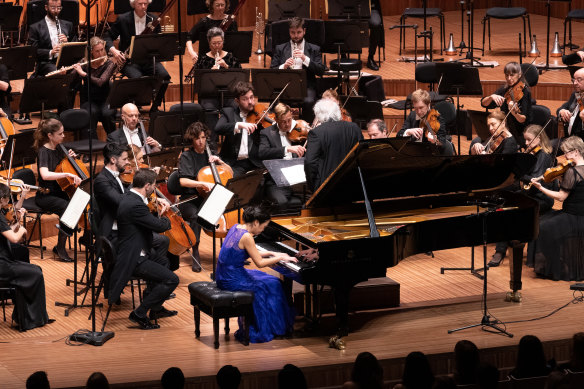 Loading
At the start Runnicles seemed to stand back, letting the music speak for itself according to the natural musicianship of the players.
In the second movement that unhurried flow built to a forceful moment of inner certainty, energised with calibrated intensity by Concertmaster Andrew Haveron.
It tapered off with a quietly fading horn solo of autumnal sweetness from Guest Principal Andrew Bain. The SSO played the third movement with delightful precision, delicacy from the woodwind and a fluid inner sense of pulse, while the last movement strived with ever-growing confidence to the moment that Glanert had recalled.
Between these works, pianist Andrea Lam was an accomplished soloist in the Piano Concerto in A minor, Opus 54 by Brahms' good friend Robert Schumann, written for his even better friend, Robert's wife Clara.
After lingering on the first theme, Lam's approach was impetuous in the first movement, rushing some phrases and pulling others back, coy in the second and driven with surging momentum in the third.
A cultural guide to going out and loving your city. Sign up to our Culture Fix newsletter here.