Not yet teenagers at the time, the band played their first show as the openers for Punchbowl's mighty Hard-Ons, who were already 20 years into their four decades together.
Eighteen years later, Portnoy, the band's drummer and vocalist, says this fifth album is "our most well put together" and a product of "learning what we like, and what we don't like" over many years.
"It feels like a new phase for us, and this album captures the live aspect of the band," he says. "And we knew what we wanted, in terms of how we approached the production. It does feel like a step-up."
A bootlegged Stooges album from France, a recommendation Portnoy received from Hard-Ons bass player Ray Ahn, partly inspired early work on Australia Stops.
The new album is a roaring, hip-shaking concoction that comes with a splash of Radio Birdman, and a generous dash of Celibate Rifles – influences the band proudly wears, but distilled into their own powerful, twin guitar attack.
Australia Stops features Portnoy's sharpest, most well-honed lyrics, building on earlier songs including White Dog and Locals Only that explore themes of Indigenous rights and racism.
"There's some great stuff on previous albums, songs I'm very proud of, but this one has a deep connection to where we're all from, or living," he says. "It's a very Australian rock 'n' roll record.
"I've never thought of C.O.F.F.I.N as a political band, or a band with a social conscience, but I never wanted to write about something I felt was fake, or unrelated to our surroundings, and our experience … It's happened naturally, and it's resonated with people."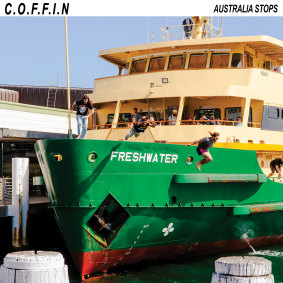 The upcoming album tour follows several European, UK and US tours, including a couple with Melbourne band Amyl and the Sniffers. Australian shows in October and November will be followed by another European tour in May.
Portnoy says the buzz that's building overseas and the positive word-of-mouth around C.O.F.F.I.N mirrors the success of other Australian bands, including Split System, Cash Savage and the Last Drinks, Mini Skirt, and Civic, with whom he's shared stages over recent months.
"I don't have too much explanation for it, except the internet has helped a lot," he said. "Our videos are spreading, and things are starting to pay off a bit for us, which is nice.
"In May we did a two-week run to the UK and were playing a Tuesday night in Liverpool … and it was bigger than a show in Australia, so that was a bit of a spin-out."
Six months of solid touring here and overseas, albeit split between different bands, sounds exhausting, but Portnoy says he wants to seize every creative opportunity.
"It's been a massive undertaking, but I'm working out this year what's manageable and what's not," he says. "There's no routine, so you have to keep up with your self-preservation.
"I've wanted to do this since I was a kid, playing music every night and meeting new people … C.O.F.F.I.N have always said yes to most things, and since COVID [lockdowns] we've all become more aware of how important this is … we want to go full steam ahead.
"This is what brings us joy in life, and this is how we best connect with people."
Australia Stops is out September 15.
C.O.F.F.I.N will be at Adelaide's Crown & Anchor Hotel on October 13; Mojos in Perth on October 14; The Brightside, Brisbane on October 20; Vinnies Dive, Gold Coast on October 21; Uni Bar in Hobart on October 27; Crowbar, Sydney on November 3; Brunswick Ballroom, Melbourne on November 4; LuliePalooza in Melbourne on November 11; and Meredith Music Festival, Victoria, December 8-10.
The Morning Edition newsletter is our guide to the day's most important and interesting stories, analysis and insights. Sign up here.