Pre-order our new cookbook Simple Feel Good Food for a chance to win a high-speed blender, food processor, and immersion blender from Vitamix!
The countdown begins! Our new cookbook Love & Lemons Simple Feel Good Food comes out in a little over a week. To celebrate, I have the most AMAZING Vitamix giveaway! Yes, we're giving away the best blender ever, but that's not all…
Pre-order Simple Feel Good Food by April 25th to enter to win this extra special Vitamix prize pack:
To enter, just send your book receipt to bookbonus@loveandlemons.com. 
Already pre-ordered? You'll be entered automatically!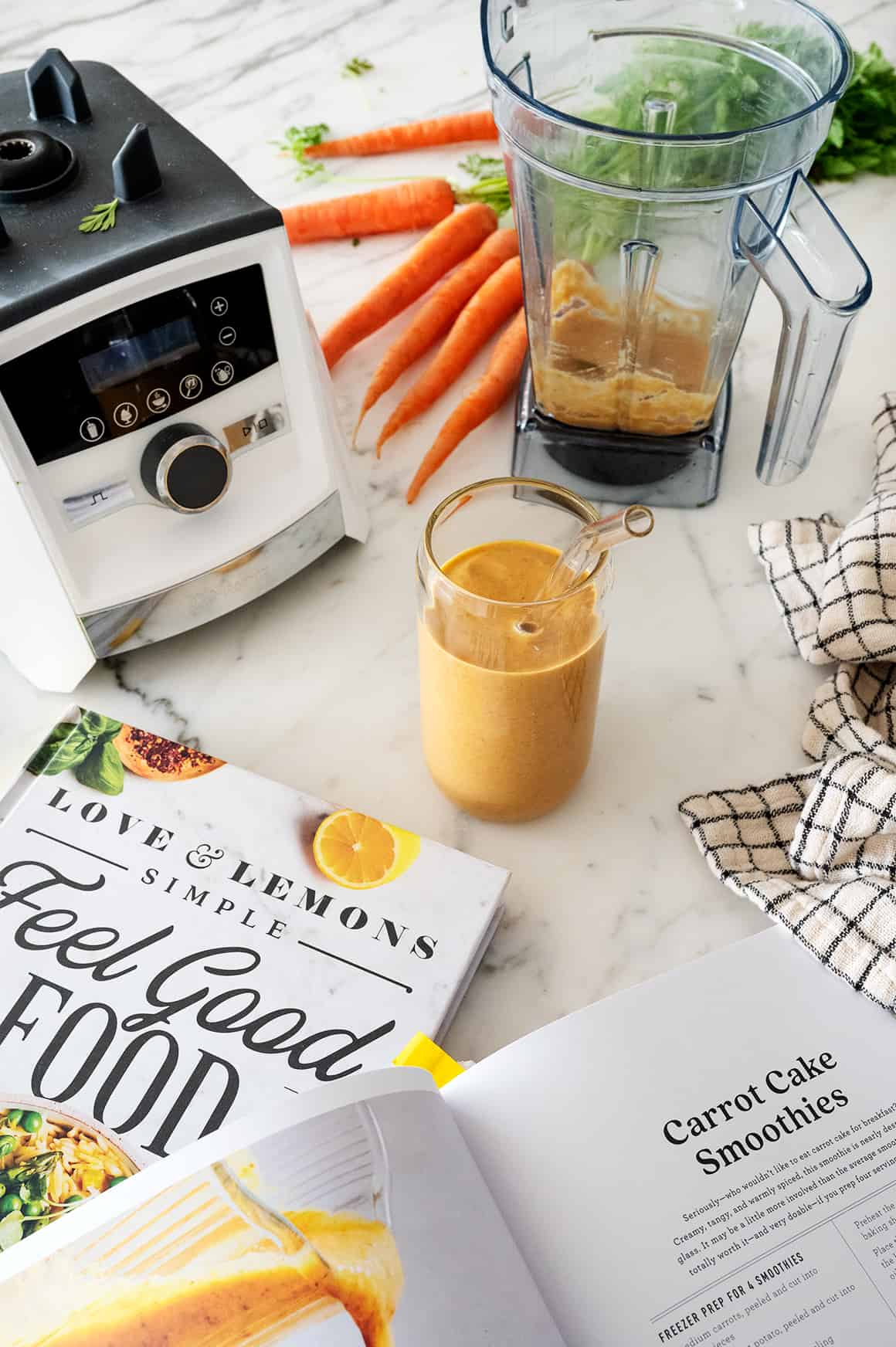 I've been a huge fan of Vitamix's products for years, and the items in this giveaway bundle are some of my favorites yet.
The A3500 Gourmet SmartPrep Kitchen System includes:
The Vitamix A3500 Ascent Series Blender. It's perfect for making smoothies, soups, sauces, and desserts. It's insanely powerful—it can even blend raw nuts and seeds into creamy purees in no time! It's a kitchen must-have, if you ask me.
The Vitamix 12-Cup Food Processor Attachment. I love it because it uses the same base as the blender so it frees up some space in my cupboards. It's fantastic for making the Sweet Potato Paneer Burgers, Freezer Carrot Cake Bars, and SO many more recipes in Simple Feel Good Food! 
Finally, the Vitamix Immersion Blender is perfect for blending soups right in the pot! I've struggled with other immersion blenders in the past that haven't been powerful enough to get soups really smooth and creamy. Not this one! It will make whatever you're blending silky smooth every time. And don't worry—the design ensures that it won't scratch your cookware.
The immersion blender set is also great because it comes with a whisk attachment and a blending jar, which is fantastic for making single-serve smoothies and taking them on the go.
If you can't tell, I LOVE all these products, and I know you will too! Just pre-order the cookbook for a chance to win them.
Thank you for your support of Simple Feel Good Food. I can't wait for you to start cooking from it soon!
The giveaway ends Tuesday April 25th at 11:59pm CDT and is open to residents of the US and Canada only. Special thanks to Vitamix for partnering on this giveaway!
No purchase necessary, to enter, send an email to bookbonus@loveandlemons.com with the subject line "Vitamix Giveaway."