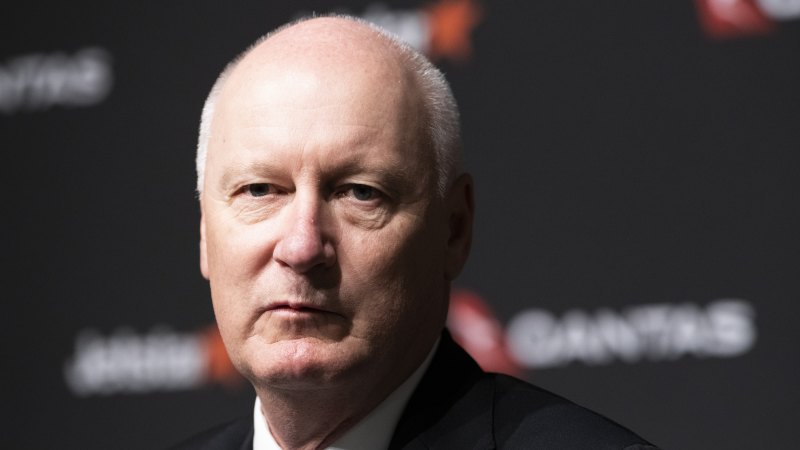 This won't be sufficient now.
There will be fresh pressure on the company's recently appointed chief executive Vanessa Hudson to acknowledge the airline's mistakes and demonstrate her preparedness to overhaul its culture of profit at any cost.
It is what the community expects when the unacceptable face of capitalism is unmasked.
It isn't surprising that the Transport Workers Union is calling for Goyder's scalp, but this time it will have support from other quarters.
The large superannuation funds that own Qantas shares and dominate the largely fractured share register are also in the firing line. Until the past few weeks, they have been supportive or silent on the airline's poor customer service record or its treatment of workers.
The $2.5 billion profit that Qantas posted for 2023 was made on the back of cutting costs (including staff costs) and raising customer fares.
Joyce had plenty of form on playing incredibly hardball on industrial relations – it was a feature that had endeared him to many shareholders, but had made him unpopular with staff.
Joyce had been a master at courting those that matter – politicians and corporates occupying the big end of town.
His outsized influence in Canberra will now undergo forensic examination at a Senate inquiry into the government's decision to block Qatar from servicing additional flights into Australia.
The government's stated reasons included public interest on the basis that it would mean additional jobs for Australian workers.
Loading
In light of the High Court decision on Wednesday, this explanation feels farcical.
Meanwhile, the shocking allegations from the ACCC that Qantas engaged in false, misleading and deceptive conduct towards its own customers, if true, breaks the fundamental rule of business that says alienating customers in the pursuit of profit is not a long-term strategy.
The airline said on Wednesday that "we deeply regret the personal impact the outsourcing decision had on all those affected, and we sincerely apologise for that," but maintained that when it sacked the workers it was in COVID-induced survival mode.
While profits are now booming, it's the board's survival that is now in question.
The Market Recap newsletter is a wrap of the day's trading. Get it each weekday afternoon.