Homebush's Qudos Bank Arena was booked to its capacity of more than 20,000 for Modi to address Australia's Indian diaspora last night, during which Albanese was gushing in his praise for his Indian counterpart.
Police officers remain outside Modi's hotel this morning, with crowds expected to form to catch a glimpse of the nation's leader.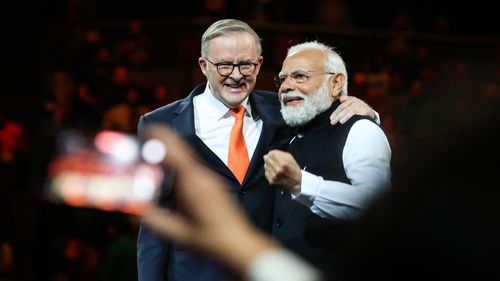 Albanese said Australia and India would look to build a closer economic partnership later this year.
"Today we talk about the way we can cooperate in green hydrogen," Albanese told Today.
Australia and India will later this year take part in the defence training exercises of Operation Malabar.
Asked whether India would be a reliable ally in the event of a conflict with China, Albanese noted the world's two largest countries had a fraught relationship, with recent skirmishes in the Himalayas.
"We want peace, security and stability in the region, including with China," he said.
Ahead of the meeting, Wong said India was Australia's partner in maintaining peace and stability in the region.
"What's important here is we've got the world's largest democracy, the world's most populous nation, India, saying 'We want to partner with others to ensure an open and resilient Indo-Pacific that is a region which is peaceful and stable'," she said.
"We share those interests and India is such an important strategic partner for Australia."
Despite India's historic relationship with Russia, Wong noted that Modi had recently come out in support of Ukraine's sovereignty in the wake of the Kremlin's invasion.
Modi received a rockstar welcome in Sydney last night.
"I said to my friend, the prime minister, before, the last time I saw someone on the stage here was Bruce Springsteen, and he didn't get the welcome that Prime Minister Modi has got," Albanese said last night.
"Prime Minister Modi is The Boss."
On a more serious note, the prime minister announced the establishment of a new centre for Australia-India relations in Sydney's west.
"The new centre … will be based in Parramatta," Albanese told the crowd.
"A place that itself is a testament to the vitality of the Indian-Australian experience…
"Now we want to see more connections — more Australian and Indian students living and studying in each other's countries, and bringing those experiences home."
Modi took the chance to announce the Indian government would be opening a new consulate in Brisbane, a long-time request from the community there.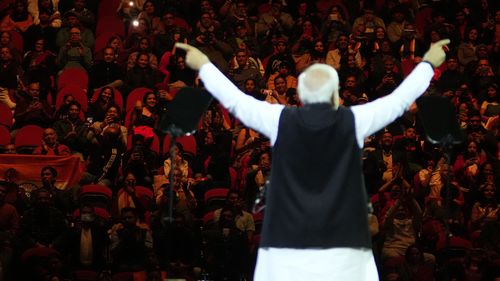 "Friends, the deepening partnership between India and Australia will empower every person that has faith in Mother India," he said.
"You have talent, you have the strength of your skills and you have at the same time your cultural values."
Fans of the Indian leader had flown into Sydney from across the country, including on a chartered flight from Melbourne.
"It's like an early Christmas and Diwali for us Indian diaspora in Australia," Sachin Dahiya, who organised the flight, said.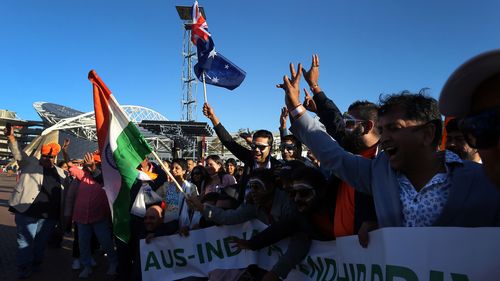 According to Dahiya, the charter sold out in just two days.
The last time Modi came Down Under as prime minister was in 2014, when Australia's Indian population numbered about 400,000. Now, that number sits at 750,000.
Earlier on Tuesday, Modi met with a number of Australian influencers and celebrities, including singer Guy Sebastian.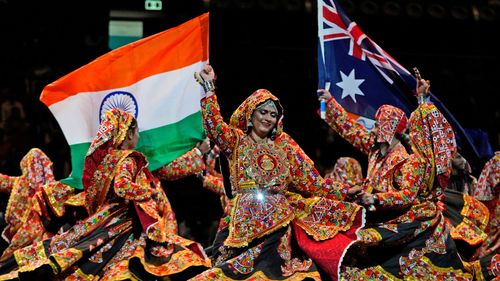 Modi's visit comes after the scheduled Quad meeting in Sydney this week of leaders from the US, Australia, Japan and India was cancelled when President Joe Biden pulled out to focus on American national debt issues.
Instead the Quad leaders met on the sidelines of the G7 summit in Japan on the weekend.
The Indian economy is also set to become one of the world's biggest.
Global security expert Greg Barton told Today this morning Modi's visit to Australia showed India was willing to engage with the world.
"In the past, it's often fallen back on being neutral for example buying arms from Russia, not taking sides and things like Ukraine.
"Now that's changing … Modi is recognising that India has to step up and be a global partner, particularly in the Indo-Pacific region."
Albanese said ahead of Modi's visit relations between Australia and India had never been closer.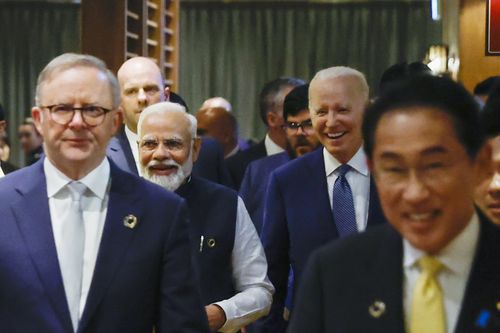 "Australia and India share a commitment to a stable, secure and prosperous Indo-Pacific. Together we have an important role to play in supporting this vision.
"As friends and partners, the relationship between our countries has never been closer."
In other news, Foreign Minister Penny Wong has indicated Albanese will not travel to China unless continued progress is made on the trade and consular front.
The last prime minister to visit Beijing was Malcolm Turnbull in 2016.
Sign up here
to receive our daily newsletters and breaking news alerts, sent straight to your inbox.