Washington: Former US president Donald Trump has filed his first personal financial disclosure since leaving the White House, offering insight into his post-presidency earnings.
The disclosure, required because Trump is again a candidate for president, was made just in time to avoid a $US200 ($298) late fee from the Federal Election Commission.
The 100-page filing enumerates Trump's management positions at a pair of businesses involved in marketing digital trading cards of him and promoting his speaking engagements, as well as at Trump Media and Technology Group, the company that made his social networking site, Truth Social.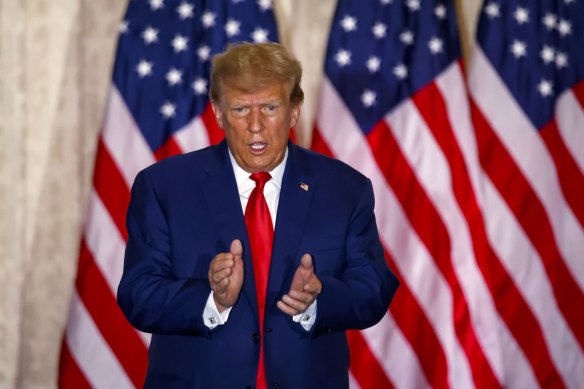 Because the value of those companies, and the income Trump is deriving from them, is disclosed in broad ranges, it is not possible to know precisely his earnings from the ventures. He disclosed making more than $US5 million from a company called CIC Ventures that manages his speaking engagements and as much as $US1 million from CIC Digital, which has sold digital images of him in the form of non-fungible tokens.
Trump Media, which had been expected to merge with an investment vehicle that would provide an infusion of financing, was estimated to have value between $US5 million and $25 million. Trump disclosed having a 90 per cent stake in the company but taking income of no more than $US200.
Friday's filing shows that Trump is still earning significant royalties from his 1987 book, The Art of the Deal. His income from the book, which helped make him a household name, is between $US100,001 and $US1,000,000.
Loading
It also offers a window into Trump's proceeds from his company's new overseas dealings.
Last year, a Saudi real estate developer, Dar Al Arkan, announced that it had inked an agreement with the Trump Organisation for a $US4 billion project in Oman that will bring a Trump-branded golf course, hotel and villas to the Persian Gulf state. But the statement did not divulge the financial details of the agreement.