China's National Meteorological Centre said Saola was moving towards the coast at a speed of about 15km/h and was due to make landfall on Friday afternoon in the southern province of Guangzhou with sustained winds of 119km/h and gusts of up to 220km/h.
The storm will then travel west down the coast into the Guangxi region before curving south out to sea between Saturday night and Sunday morning, gradually weakening as it goes.
The Guangdong city of Shanwei, closest to where Saola is expected to make landfall, ordered a halt to classes, transport and most economic activity until the all-clear is sounded. Other cities, including Shantou, Shanwei, Jieyang and Chaozhou, have ordered the start of the school year to be delayed until Monday. Regional airports have also suspended flights.
The weather centre has already issued a red alert for potentially destructive winds and possible flooding, with some areas expected to receive up to 200 millimetres of rain.
As the storm moved closer to Hong Kong, the city's leader, John Lee, said in a Facebook post that he had requested various government departments to plan ahead and urged residents to take precautionary measures.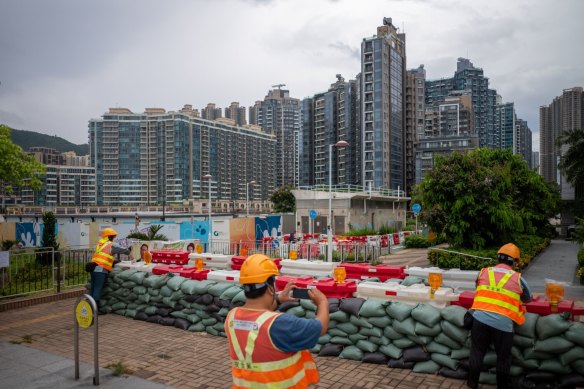 The Hong Kong Observatory issued a No. 8 typhoon signal, the third-highest warning under the city's weather system, for Friday. School classes have been suspended, Chief Secretary Eric Chan said.
The observatory warned of squally showers, strengthening winds and a possible storm surge in low-lying areas of the crowded financial centre.
Saola passed just south of Taiwan on Wednesday before turning to China, with the storm's outer bands hitting the island's southern cities with heavy rain and strong winds.
Loading
The typhoon also lashed the Philippines earlier this week, without any reports of casualties so far. However, in the northern part of the islands, low-lying villages were flooded and nearly 50,000 people displaced, including 35,000 villagers who fled to government-run evacuation centres. Seaports suspended inter-island ferry services due to rough seas, and more than 100 houses were damaged.
The storms follow some of the heaviest rains and deadliest flooding in years across a wide swath of China, with scores killed, including in outlying mountainous parts of the capital Beijing.
AP, Bloomberg
Get to the heart of what's happening with climate change and the environment. Our fortnightly Environment newsletter brings you the news, the issues and the solutions. Sign up here.