Australians will go to the polls to vote Yes or No to the Indigenous
Voice to parliament
on October 14.
Prime Minister Anthony Albanese revealed the date of the long-mooted referendum in Adelaide this morning at the Yes campaign launch.
"The idea for a Voice came from the people, and it will be decided by the people," Albanese said.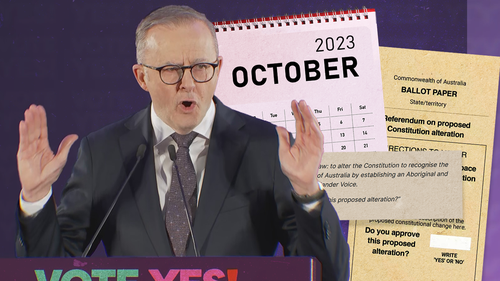 The question for the referendum will be:
"A Proposed Law: to alter the Constitution to recognise the First Peoples of Australia by establishing an Aboriginal and Torres Strait Islander Voice.
"Do you approve this proposed alteration?"
Albanese gave an at-times impassioned speech to a cheering crowd, calling on them to move Australia's 65,000-year-old story forward.
"In a spirit of generosity and optimism, vote Yes. In recognition of 65,000 years of history, vote Yes. With hope for a better future, vote Yes," he said.
On October 14, he said, Australia had nothing to lose and "so much to gain".
But, he said, if approved by Australians, the Voice was just the start of the journey.
"The Voice will be a committee of Aboriginal and Torres Strait Islander people, local representatives from every state and territory, the regions, remote communities, as well as the Torres Strait Islands," Albanese said.
"A committee of Indigenous Australians chosen by Indigenous Australians, giving advice to government so that we can get a better result for Indigenous Australians."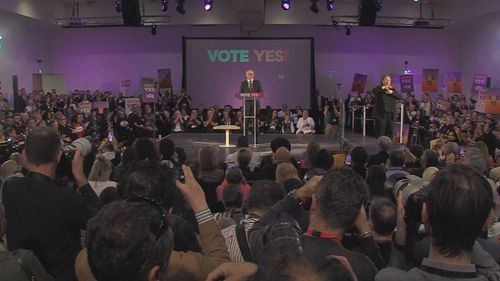 He said it would face challenges "built up over generations".
"But voting Yes means we'll finally have the right approach in place so we can start finding the solutions," he said.
"We can make this change together.
"And with a Voice that's independent from day-to-day politics, so it can plan for the long term."
Albanese again reinforced the message that the Voice would not have any legislative or governing power.
"With a Voice, though, we will be able to hear directly from Aboriginal and Torres Strait Islander communities about the challenges they face in health and education, in jobs and housing," he said.
"And we'll be able to learn about the things that are working in local areas, so we can replicate them and make them work right around the country."
Albanese urged Australians unsure about how they wished to vote to ask questions and listen to answers about issues that puzzled them.
He warned that a No vote was a vote for nothing to change.
"I say today, don't close the door on constitutional recognition, don't close the door on listening to communities to get better results," he said.
"Don't close the door on an idea that came from Aboriginal and Torres Strait Islander people themselves, and don't close the door on the next generation of Indigenous Australians. Vote Yes."
A first-term referendum on constitutional recognition of Indigenous people and an advisory Voice to parliament was a core promise of Albanese's 2022 election campaign.
Enshrining the Voice in the Constitution means it will not be able to be dismissed by a new government, except through another referendum.
The Australian Electoral Commission is in the process of delivering 13 million booklets to households around Australia outlining the official Yes and No campaign positions.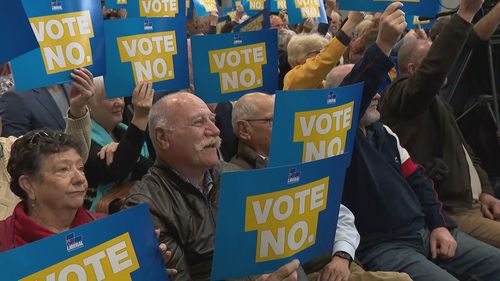 The case put forward by the Yes team places heavy emphasis on the origins of the Voice in the Uluru Statement from the Heart as something put forward by Indigenous leaders rather than any parliament or political party.
"Vote yes to an idea that comes directly from Aboriginal and Torres Strait Islander people themselves: Constitutional Recognition through a Voice," the document reads.
It said a yes vote was about "recognition", "listening" and "better results".
The No campaign has emphasised the unknowns about the Voice, including its composition and areas of oversight.
Contrary to the Yes camp, the No campaign claims the Voice will prompt waves of legal action and that the body will have a mandate to oversee areas of government such as Defence.
Opposition Leader Peter Dutton has also said he would not support the Voice.
In his speech, Albanese said arguments had been made against Australia's Federation, the minimum wage, Medicare, multiculturalism, and universal suffrage as well.
"But the great story of our country, through the generations, is that Australians come together to answer these calls for change, we rise to the moment," he said.
"Like the kangaroo and the emu on our coat of arms, they never go backwards, they just go forwards."