Big miners Rio Tinto and BHP were slightly up on Thursday. The top-performing stock of the day was beverage packaging company Orora, which closed 14.8 per cent higher after reporting a solid first-half result and predicting stronger full-year earnings, which it said reflected "the resilience of the business in what is a challenging year of economic conditions".
The laggards:
Shares in financial services group AMP plunged 13.4 per cent to $1.13 after its full-year profits missed market expectations as the company seeks to narrow its focus to wealth management and banking. Underlying profits fell by about a third to $184 million, coming in well below market expectations. Assets under management slipped to $124.2 billion, from $142.3 billion, due to weaker investment markets and $5.3 billion in net cash outflows.
The finance sector overall was in the red for a second day after concerns about Commonwealth Bank's future margins roiled investors on Wednesday.
CBA, the nation's biggest bank, extended Wednesday's losses by a further 1.5 per cent. However, National Australia Bank went up 0.66 per cent to $30.51 after saying its first-quarter profits jumped by close to a fifth to $2.05 billion, as revenue increased sharply thanks to higher interest rates and growth in its loan portfolio.
Gold miner Newcrest lost 1.7 per cent after its board rejected a takeover proposal from US mining giant Newmont, arguing it undervalues the company, but agreed to open its books to extract a higher offer.
The lowdown:
A combination of a strong lead from Wall Street, Australia's unemployment rate unexpectedly rising and a string of solid company profits spurred the local bourse on Thursday, with investors eager to make up for lost ground on Wednesday.
The bourse jumped in late morning trade after the Australian Bureau of Statistics revealed the number of unemployed people increased by 22,000 in January, lifting the unemployment rate to 3.7 per cent. Economists had expected the unemployment rate to hold steady at 3.5 per cent. The rise in the jobless rate suggests the economy has begun to cool, triggering hopes the RBA might rethink the need for further rate hikes given its desire to bring the economy in for a soft landing.
"The market pretty much staged a recovery today," says market strategist Jessica Amir from Saxo Markets.
"Today, we received some economic news that basically supports the Reserve Bank of Australia not continuing to hike rates into the rest of the year, so that is supporting the market rising."
Treasurer Jim Chalmers said in a press briefing that the lift in the unemployment rate was "the obvious consequence of a slowing global economy mixed with the impact of interest rate rises here in our own economy," adding that Treasury and the Reserve Bank expected the economy to slow further, and employment to continue to rise in coming months.
RBA governor Philip Lowe earlier this week denied accusations he and his board were trying to drive the country into recession, while warning interest rates are yet to peak as the bank fights to bring down inflation. The central bank last week lifted the official interest rate by 0.25 percentage points to 3.35 per cent and warned more rate rises were on the cards in coming months.
Elsewhere, coalminer Whitehaven reported a sensational 432 per cent profit jump to $1.8 billion after half-yearly revenue peaked at $3.8 billion, yet its share price dropped 2.8 per cent as the company braces for softer demand in a slowing economy.
"They're basically telling the market that demand for coal might not be as hot as it was in the past, but we know that fundamentals will probably see the coal price pick up later this year," says Amir. "You also have China buying coal again from Australia for the first time in two years, which will increase demand for coal in the second half of the year for the Northern Hemisphere's winter."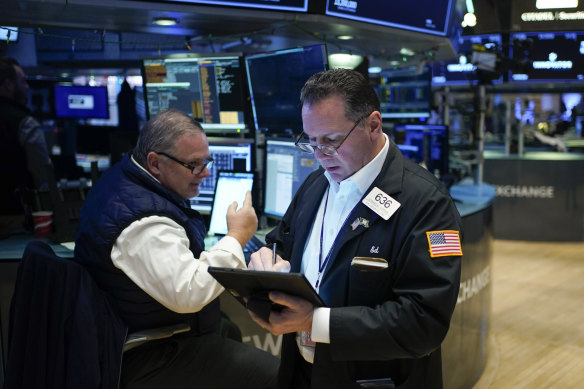 On Wall Street overnight, the S&P 500 rose 0.3 per cent after swinging from early losses to gains through the session. The Dow Jones Industrial Average edged up 0.1 per cent, while the Nasdaq composite rose a more forceful 0.9 per cent.
Sales at US retailers jumped by more last month than expected, even as shoppers contended with higher interest rates on credit cards and other loans. The surprising strength offered hope that the most important part of the US economy, consumer spending, can stay afloat despite worries about a possible recession looming.
At the same time, though, the strong spending potentially adds more fuel to inflation, which a report earlier this week showed is taking longer to cool than expected. Upward pressure on inflation could force the US Federal Reserve to stay more aggressive in keeping rates high.
"It seems like both consumers and corporate America came into this in pretty good shape and so far are holding out OK," said Tom Hainlin, national investment strategist at US Bank Wealth Management
Loading
The next big milestone for markets will likely be the Fed's meeting in late March, when its policymakers will give their latest forecasts for where interest rates will be at the end of the year, Hainlin said. That could lead to choppy trading in markets until then.
Quote of the day:
"Monthly data can move around a bit, but if you are uncertain about how things are evolving, this is the kind of data that might make the RBA think about pausing. The question is, is this a one-off or is it a turning point?"
Gareth Aird, head of Australia economics at the Commonwealth Bank, on the jobless rate and its potential implications for interest rates.