In TV cooking shows, the cook never seems to clean any dishes. Shouldn't the "washing up" be included in the television experience, along with tips on how to get the cleanest kitchenware with a minimum of effort?
G.C., East Melbourne, Vic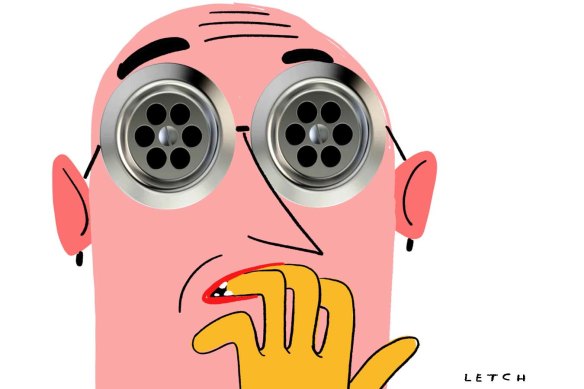 A: You know the theory that men who do the washing-up get more sexual attention from their partners? Well, as a passionate washing-upper guy, I can reveal that this is 100 per cent not true, probably because there's nothing particularly sexy about me hunched over a sink, scouring pots, scrubbing bakeware, stacking the dishwasher, squirting dishwashing liquid onto a sponge and sponging down the bottle of dishwashing liquid.
Loading
As TLC so succinctly pointed out in their 1999 hit song: Oh, I don't want no scrub, a scrub is a guy who can't get no love from me …
So being a passionate washing-upper guy who's getting no post-wash sexual attention, I tend to have a few spare hours in my evenings – which I would definitely use to watch a TV cooking show that included tips and techniques on dish-cleaning. How to microwave a rancid, bacteria-infested sponge so it lasts another month. Why you should stop stacking your dishwasher when the door won't close any more. The importance of wearing rubber-glove protection to avoid STIs (scrubbingly transmitted infections). I think you're onto something here.
Loading
In fact, I'd watch a TV show that was about nothing but washing-up: it could be called My Kitchen Sink Rules or The Great Australian Baked-on. There could be judges giving scores on competitors' skills, saying stuff like, "Your pot-scouring was outstanding, as good as anything you'd see in the dish-pit of a Michelin-star restaurant. What let you down was the Champagne Flute Challenge. Using a chopstick and a Chux cloth was daring, but confusing. Sorry, but you're wiped!"
To read more from Good Weekend magazine, visit our page at The Sydney Morning Herald, The Age and Brisbane Times.