Reid, a former art market analyst, says the Archibald only takes an artist so far, in terms of their career development. Its greatest gift to the artist is cash and time to get on with other work.
Loading
"The Archibald does less for an artist's career, than one would imagine," he says. "And less overall than the landscape prize, like the Wynne. Simply because people, the Australian market does not value portraiture to the same degree as landscapes.
"Australian society does not have a tradition of hanging portraits in the home. This is rare. And doubly so, we do not want the face of most likely dead others in our house. So, portraiture, within a domestic experience is more European than Australian taste."
The landscape painting, however, is one of the great Australian reconfiguration traditions that has contributed to the overall world development of art, and the Wynne celebrates the country's best exponents, Reid says.
Multimedia artist James Powditch is an Archibald finalist this year for a playful portrait of actor Sam Neill, and this year's Wynne Prize for an epic country club-style honour board naming every Wynne prize winner since 1897.
Fred Williams, Russell Drysdale, Lloyd Rees, William Dobell, John Perceval, Arthur Streeton, John Olsen, Sylvia Ken, George Gittoes, Aida Tomescu, Nicholas Harding and Brett Whiteley are on the roll.
Powditch's Wynne Club Championship alludes to the empty canvas all artists start with – a blackboard kept in storage for 22 years in Powditch's case – and their attempt to come up with a winning performance.
On the frontispiece is a set of boxing gloves which draws a correlation a link between the competitive aspects of arts prizes and the obsessive nature of sporting contests.
"All arts prizes look like a blood sport to the outside observer, with winners and losers," Powditch says. "In fact, people get surprised at how much attention arts prizes like the Archibald or Wynne get in this country. What other country bets on art prizes? My work is a celebration of the prize and a stab at the nature of art prizes in general and the importance that artists place on it."
No one knows the power of the Wynne Prize better than Sydney artist Julianne Ross Allcorn who was inundated with requests for private commissions after she was awarded the Wynne's Trustees Watercolour prize on her first entry in 2020.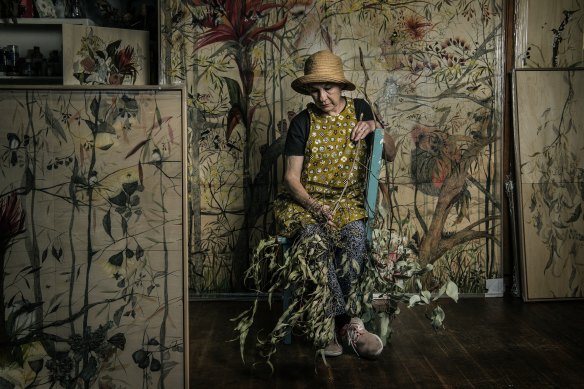 "Being hung in the Wynne really opened doors for me," she said. "Before then, I was always working towards one exhibition or an art prize. There's nothing like the diving board that being a Wynne Prize finalist puts you on."
Allcorn paints on panels using graphite, watercolour or acrylics, her intricate works of nature combine her astute eye for detail, and a love for even the tiniest of critters. Her multi-panel entry did not make it to the Wynne Prize shortlist this year but will feature in a solo exhibition at Reid's Southern Highlands Gallery opening this week and another later this year with Maunsell Wickes Gallery.
Reid first encountered Allcorn's work at the Art Gallery of NSW in 2020 strolling the Wynne finalists of 2020. "There was a painting of wattle, banksia, grevillea, waratah, gumnuts, gum blossoms, seeds, and leaves from different native plants, a Gymea lily, and the wildlife of our bush," Reid recalls.
Loading
"In a contemporary manner, Allcorn's paintings to my eye, channel an earlier world of a more detailed observation and the Australian bush.
"As a viewing member of the public, I applauded the judge's choice. As an art dealer, I was delighted that the artist had then not a full exhibition dance card. She has now."
The Booklist is a weekly newsletter for book lovers from books editor Jason Steger. Get it delivered every Friday.