The train was carrying a mix of items including malt liquor, frozen vegetables and five main hazardous chemicals: ethylene glycol monobutyl ether, ethylhexyl acrylate, isobutylene, butyl acrylate and vinyl chloride.
The National Transportation Safety Board said that of the train's 150 cars, 38 derailed and an additional 12 were damaged by a fire that lasted for days; 11 of the 20 cars carrying hazardous materials derailed.
There were no fatalities or injuries in the derailment and fire. Investigations into what caused the derailment are ongoing, but surveillance video footage shows the bottom of one rail car overheating beforehand.
"Engineers from the NTSB Materials Laboratory will examine the rail car wheel and axle that potentially experienced a mechanical issue," NTSB spokesperson Jennifer Gabris wrote in an email to Bloomberg Green.
Why was there a controlled explosion?
In the days following the crash, at least one train car carrying toxic materials started to experience a dramatic rise in pressure. This prompted concerns of a possible "catastrophic explosion" that could send a deadly spray of shrapnel across a wide area.
To prevent this from happening, Ohio Governor Mike DeWine, Pennsylvania Governor Josh Shapiro, Norfolk Southern and others decided to perform a controlled explosion of five cars carrying chemicals including vinyl chloride, a known carcinogen.
It is unknown how much of the vinyl chloride, which is used to make polyvinyl chloride that's found in many plastic products and other chemical materials, leaked into the environment ahead of the explosion or during it.
Roughly 4700 people live in East Palestine. Residents and businesses within a few kilometres of East Palestine in both Ohio and Pennsylvania were evacuated ahead of time. Following this explosion on Monday, February 6, residents were allowed to return home starting on Wednesday, February 8.
What about air contamination?
The EPA conducted a range of air monitoring procedures after the crash, including real-time air monitoring using stationary devices set up around the disaster zone and East Palestine community, roving monitoring using hand-held devices and aerial monitors using an ASPECT (Airborne Spectral Photometric Environmental Collection Technology) plane.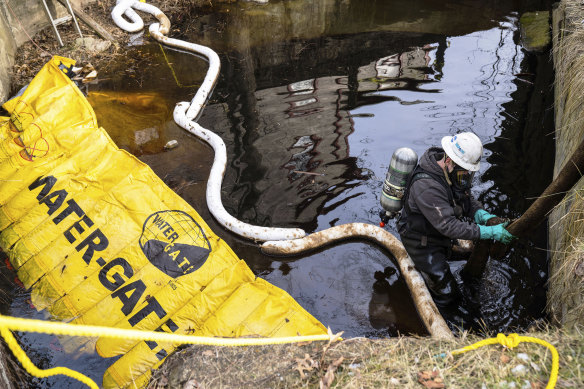 Only particulate matter was detected above the screening levels, and no chemicals or gases were identified at a hazardous level. By the evening of February 13, the EPA had discontinued its community-level air monitoring for phosgene and hydrogen chloride, which can be produced when vinyl chloride combusts. The EPA has been monitoring for chemicals known to be on the train, as well as other materials that those chemicals can break down into or generate upon combustion.
With Norfolk Southern, the EPA also screened the air inside 396 homes and found "no detections" of vinyl chloride or hydrogen chloride; 100 homes still need to be tested.
But this doesn't mean there weren't chemicals in the air, possibly at dangerous levels. In one of the EPA's daily updates, the agency noted that "residents in the area and tens of miles away may smell odours coming from the site", a result of the byproducts of the controlled burn having a low odour threshold.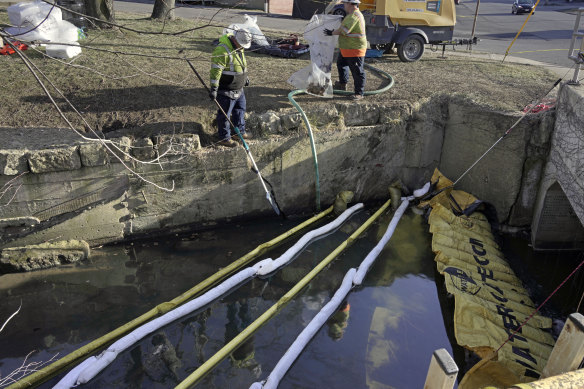 Public health experts also warn that testing indoor air quality isn't sufficient, especially a week after an event, when chemicals and gases may have dissipated.
"What they have to test is the furniture, the rugs, anything that will absorb contaminants," says Enck. The EPA did not respond by the time of publication to questions about whether it was testing furniture.
Has there been water contamination?
Soon after the crash, emergency response crews found contaminated run-off at two surface streams — Sulphur Run and Leslie Run — prompting the construction of booms and underflow dams to restrict the flow of contaminated water.
Operations to collect contaminated mud and water have continued, with the Ohio EPA taking the lead on water sampling. At least one of the streams empties into the Ohio River, a drinking source for several states, prompting additional water sampling across state lines.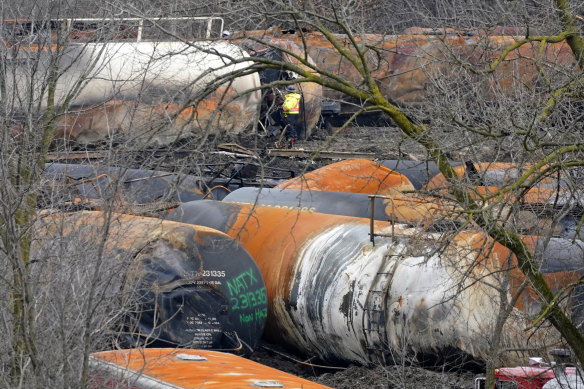 Although officials have largely declared the drinking water in East Palestine and elsewhere safe, some communities are being advised to drink bottled water.
About 3500 fish have died in the impacted waterways, the Ohio Department of Natural Resources said. The primary toxic chemical identified in the water is butyl acrylate, which is used to make polymers and resins, including those found in plastics and paint.
Who is responding to the crash?
A complicated web of local, state, and federal officials are responding to the disaster, along with Norfolk Southern and its contractors.
East Palestine's city officials have contributed to the emergency response, while both the Ohio National Guard and US Department of Defence contributed to modelling done ahead of the controlled explosion.
The NTSB is running the safety investigation into what caused the crash and will ultimately issue safety recommendations after it is done.
Loading
The EPA took initial water and soil sampling around the crash site, and is the primary source for air monitoring in the community; the EPA is also working with Norfolk Southern to do indoor air screening inside the homes of those who have requested it.
The Ohio EPA is the point agency for water sampling in and around the site, while the Ohio River Valley Water Sanitation Commission and other water utilities along the Ohio River are doing their own water sampling.
Bloomberg