"Being around the club is still enjoyable week to week because of the people. Translating that onto the field is our next step." A meagre 20 career wins and this season's several near misses leave a longing. "Because we've lost so much, we're going to appreciate it more when it turns for us as a club," he said. "Losing makes you appreciate winning more, that's for sure."
Larkey is tracking with the best goalkickers of the past 30 years and is easily the most accurate. He says he has to be. "I'm not a player who racks up a lot of the ball," he said. "Partly that's because we haven't exactly had the best inside forward-50 numbers over the years I've played there.
"So I put a high priority on the importance of finishing off the team's work, both for my own game, and also for the team. I take that responsibility super seriously."
His kicking style is far from flamboyant. He notes that many of his goals just make it across the line. It's not by accident. "I like to take a bit of heat off the ball. I feel like there's less margin for error," he said.
"So much is in the ball drop. If your ball drop's slightly off, but you haven't punted the ball as hard as you can, it can still sometimes sail through straight. I feel like the margin for error is greater the harder you kick it."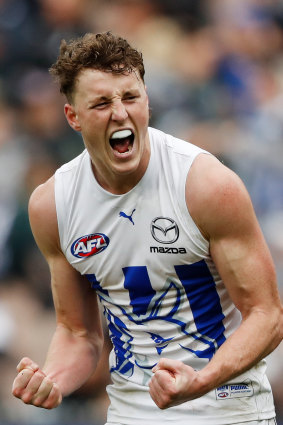 Larkey didn't really start to grow into his goalkicking persona until Ben Brown left for Melbourne three years ago. "It did take a couple of years to adjust. My body wasn't particularly ready to fight and compete with the No.1 key defenders," he said. "This year, I felt I finally had my AFL body completely right to be able to take that position by the scruff of the neck."
Perhaps not surprisingly, he was the most targeted inside-50 player in the competition this year. In this, Larkey said his All-Australian selection truly was a team award. "We've all done a heap of work at the club on how we want to kick the ball inside 50, and a lot of that is to me," he said. "My success is off the back of how the team delivers me the ball."
Still, he was left shaking his head this week as the bouquets poured in. "It's funny, when you don't get the recognition, you crave it a bit. Then when you do get the recognition, I feel almost awkward to be in the spotlight," he said.
"All I ever really dreamt of was to play an AFL game. When you put your head down and work hard, a couple of years down the track when you look around, it's amazing to see where you are."
Keep up to date with the best AFL coverage in the country. Sign up for the Real Footy newsletter.