Positioned right on the 50-metre line for the 1995 World Cup final at Ellis Park, right from the New Zealand kick-off, I picked that the All Blacks were going to lose. The Boks forward who caught it should have been engulfed by eight rampaging demons from the Land of the Long White Cloud. But he wasn't. Instead, there was a lag as the All Blacks – who'd spent most of the previous night and morning being seriously ill – didn't have the legs to do the job.
Last Sunday, I was also right on the 50-metre line for the Wallabies-France Test at Stade de France in Paris. And here's the thing. It was quite the reverse: I reckon if you had Hawkeye doing offside rulings, the Wallabies would have been pinged at least half-a-dozen times. They were so eager to get to the French from the kick-offs that at each kick they had a toe either a centimetre behind the line, or several centimetres in front. It bespoke a team that, while struggling against the likely world champions, still has heart and oomph.
Ditto, the situation after every French score. TFF has long held the view that at any given moment you can judge a rugby team's will to win, or lack thereof, by how tightly they are grouped behind the goal line as the opposing kicker lines up. If they are scattered like Brown's cows, looking every which way but the captain, the match is already over. If they are tight around the captain or another player, it is still game on.
In this match, the Wallabies stayed tight around Will Skelton and, sometimes, Tate McDermott every time, right to the end. Sure, it was disappointing they didn't win. But there are green shoots, and gold ones, too!
President's cup
Well, yah-boo sucks to you sportswriter Rick Reilly who wrote a book called Commander in Cheat: How Golf Explains Trump and said: "Donald Trump is the worst cheat ever and he doesn't care who knows. I always say golf is like bicycle shorts. It reveals a lot about a man. And golf reveals a lot of ugliness in this president."
Donald Trump not only doesn't care, he continues to play simply amazing golf! This week, for example, in between dealing with the 91 charges he is facing in his four criminal indictments he … actually, why don't you tell 'em, Trumpster?
"I am pleased to report, for those that care, that I just won the Senior Club Championship (must be over 50 years old!) at Bedminster (Trump National Golf Club), shooting a round of 67. Now, some people will think that sounds low, but there is no hanky/lanky. Many people watch, plus I am surrounded by Secret Service Agents. Not much you can do even if you wanted to, and I don't. For some reason, I am just a good golfer/athlete – I have won many Club Championships, and it is always a great honour!"
See? SEE, Rick?
It is very well known that US Secret Service agents – sworn to protect presidents and former presidents, even those partial to a little coup-coup-ca-choo – often step forward and check golf scoring sheets. So he must be telling the truth!
And for the record, I also believe Trump's claim on his arrest charge sheet in Georgia last week that, right now, he is six-foot-three and 215 pounds (1.9 metres and 98 kilograms) – the same measurements as Muhammad Ali in his prime. No, really!
Nevertheless, despite this great golfing effort by Trump, he's still not in the league of the 38-under-par 34 once famously shot at Pyongyang Golf Course by former North Korean dictator Kim Jong-il, a round which he said – and I am not making this up – included no fewer than 11 holes in one, and just happened to be the first time he'd played golf!
Offhand, I can't say what Kim's measurements were, but I would not be at all surprised if he was a physical dead ringer for Carl Lewis on a good day.
More power to the cause
You know that thing about how, while the Women's World Cup was great 'n'all, it's not as if they could ever get close to the men's game, I present an interesting titbit.
Let's take the fastest penalty kick of the Cup. It was struck by England's Chloe Kelly, against Nigeria to win the game, and it was clocked in at – let's go to the tape – 110.79km/h.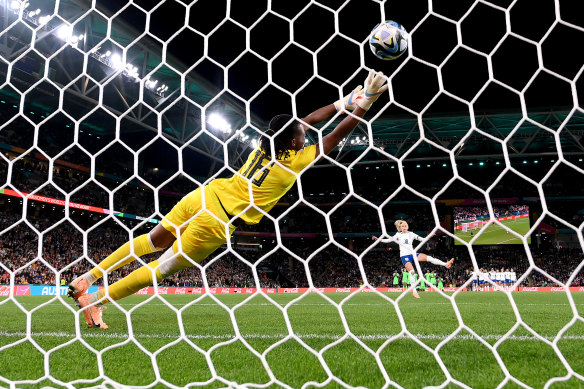 Now, off the top of your head, how do you think that speed would compare to the fastest strike of last season's English Premier League – by West Ham's Said Benrahma, as it happens.
Given the male's strength advantage, I would have gone with it being about 75 per cent to 80 per cent faster, yes? You've got 10 seconds to write your answer, while I shoot the breeze with your Dad.
(As a reference point, the fastest cricket ball ever bowled by a woman was about 80 per cent as fast as the fastest ball bowled by a man.)
Loading
Pens down.
The answer is Kelly's strike was … about 3 per cent FASTER than Benrahma's strike of 107.2km/h!
A fascinating piece in The Guardian pointing this out warmed to the theme – without explicitly stating it – that it was because Kelly's technique was superior.
Alexandra Atack, an associate professor of biomechanics at St Mary's University, Twickenham, was quoted: "The speed of the ball is determined by the speed of the kicking foot when it makes contact with the ball and how efficient the foot-ball collision is in transferring the energy."
See? It ain't just strength, but is more to do with "the motion of the hip and knee joints of the kicking leg, the speed and angle of the kicker's approach, the motion of the stance leg, and rotation of the upper body", and all that jazz!
"The amount of energy these actions can generate and how they are co-ordinated will influence the kicking-foot speed towards the ball."
And somehow, when Kelly put it all together, the strike outshone the best of the Premier League!
What They Said
Broncos coach Kevin Walters, being fabulous, as his team prepared to face the Storm: "We're grateful and appreciative of where we sit right now, but there's a lot of water to flow under the bridge just yet – the good thing is we have a boat, and we're in the water." Those bubbles you passed a way back, Kevvie? Can you check? I think it might be the Raiders.
Quentin Hull on ABC's Grandstand Rugby League as the Storm beat Brisbane in Brissie, which prevented the Broncos – at least temporarily – clinching the minor premiership:"You could put Daffy Duck in a Melbourne jersey at Lang Park and he wins!"
Patricia Moreno in Vogue Espana on Spanish soccer boss Luis Rubiales and his kissing of World Cup winner Jenni Hermoso: "Despite Rubiales' attempts to gaslight all of the women in this country, let's show that we're a society that refuses to take a step backwards. Our World Cup champions will thus have achieved something even more historic than a sporting title: the fall of a man who believed he was invincible."
Angeles Bejar, mother of Luis Rubiales, on her hunger strike, until such times as the woman the Spanish soccer chief kissed on the podium, "tells the truth": "I don't mind dying for justice." Mercifully, she didn't die, only fainted and was taken to hospital.
US sprinter Noah Lyles, who won the 100m, 200m and 4x100m at the athletics world championships – and no, I'd never heard of him either – on the fact he just don't get no respect around here: "You know the thing that hurts me the most? I have to watch the NBA finals and they have world champion on their heads. World champion of what? The United States?"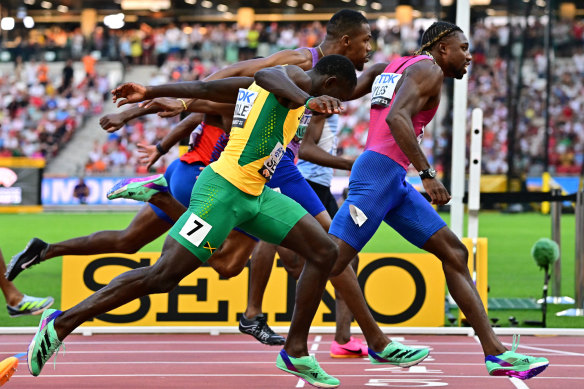 NBA star with Portland Trail Blazers Damian Lillard, in reply: "Tf". I think it's an acronym.
Essendon player Kyle Langford on the end to their season: "I'll be searching for answers and I'll be asking Scotty [coach Brad Scott] what the go is because I think we were sitting fifth or sixth at one stage. So, yeah, it's pretty shit."
As told to TFF, Fiji rugby coach Simon Raiwalui on what he said to his charges, just before they went out to play England at Twickenham: "Well, in rugby, a smiling Fijian is a dangerous Fijian. So the first thing I said was: 'Enjoy ourselves. Play the way only you can. Enjoy it. Smile. We can win this'." They did, 30-22, in a win for the ages!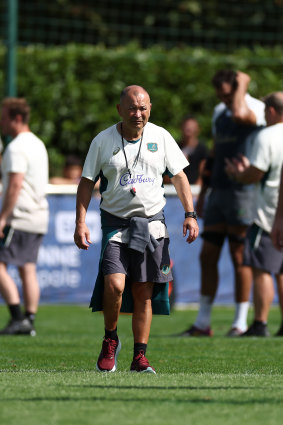 Eddie Jones after the France loss: "Within the camp, we have a fair bit of confidence. We enjoyed being part of the party tonight but in terms of what we want to do for the World Cup, in particular our first game, we probably did a lot of good things. We've got to get better at converting territory to points. We're not a bad team but we're not a good team yet. We're going through the process of becoming a good team. We've got to keep believing and working hard and it'll come."
French basketballer Nicolas Batum after they were eliminated from the World Cup in the group stage: "I'm scared to go home because we let a lot of people down. The whole country, a lot of people in the country, believed in us to do something special, and we didn't do it."
Ten-year-old gymnastics fan Samantha Brady on seeing American Simone Biles in action: "This is like a Taylor Swift concert but for Simone. She's literally my idol."
Ange Postecoglou when asked where he was getting his ideas from: "I'm just copying Pep [Guardiola], mate."
Team of the Week
Newcastle Knights. After round 17, they were languishing in 14th on the ladder but, after winning their past eight, they've locked up a finals spot. Good luck to them, they haven't won a finals match since 2013.
Randwick Rugby. Won their first Shute Shield in two decades.
Mad Monday. Rugby league's finest on the prowl this Monday. You know the drill, lock up your pet dogs.
Kasey Badger and Belinda Sharpe. First female match officials to solo referee NRL games this round.
Eleanor Patterson and Nicola Olyslagers. The Australians finished second and third in the high jump at the athletics world championships.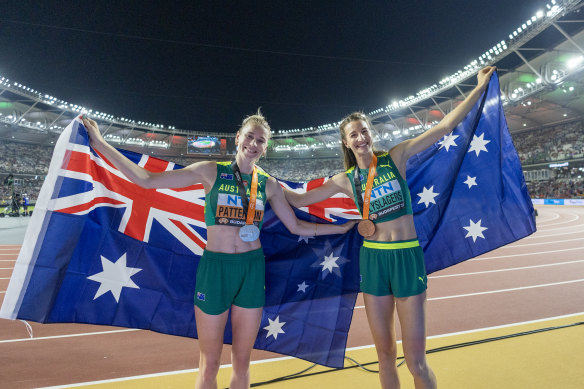 AFLW. Eighth season gets under way this weekend. The Sydney teams start with a derby at North Sydney Oval on Sunday.
Swans and GWS. Both made it to the finals for the fifth time. Given the Adelaide teams have done this six times and the Western Australian sides four times, and the second Adelaide team has been around since 1997, this is a remarkable effort by both of our AFL sides.
Loading
Fiji's rugby union team. Great that the Flying Fijians knocked off England, except when you consider they're in the Wallabies' World Cup group.
Boomers. Knocked out of the Basketball World Cup at the hands – and three-pointers – of Slovenia. Due to play against Georgia on Sunday. (Odd, yes, that our Boomers and Wallabies should both play Georgia in the same week, after very little sporting interaction I can think of?)
Twitter: @Peter_Fitz
Sports news, results and expert commentary. Sign up for our Sport newsletter.