"Remember to look up at the stars and not down at your feet," advised famous scientist, Stephen Hawking, on encouraging humankind to be curious. The exception might be around Lisbon where stars – as well as flowers, rosettas and ships – are embedded as mosaic-like designs and motifs in the city's cobbled pavements and plazas.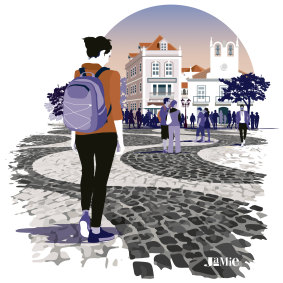 As you step across these beautiful patterns and outlines, consider Portugal's first "artistic" pavers – prisoners. In 1842, under the orders of Eusebio Furtado, a military engineer and the governor of arms at Castelo de Sao Jorge, the shackled prisoners lay local stones – white (limestone) and black (basalt) stones – in a zigzag design in the castle grounds. This was a departure from the plain, "regular" pavements of the period; cobbled areas of some kind had existed since the 15th century under the orders of King Manuel I. The inventive design was Furtado's – he likely drew on Roman mosaics and Portugal's Moorish decorative azulejos (tiles) – and the "calcada artistica Portuguesa″ (artistic pavement) was born.
According to historic newspaper articles, the castle's design innovation created a stir; curious locals made pilgrimages to the castle to see the pattern. Soon after, the municipality employed Furtado to design a paving configuration for the Praca do Rossio. Prisoners undertook this work, starting in August 1848 and completing it in December 1849. The result was incredible – 8712 square metres of a striking wave pattern design, known as mar largo (wide sea) in Portuguese.
The calcada artistica Portuguesa spread to other squares, streets and plazas around Lisbon – including Avenida da Liberdade, Largo de Camoes and Praca do Municipio – and other Portuguese towns. In the 20th century, they appeared in Portuguese colonies such as Mozambique, East Timor and Macau, although possibly the most photographed example is in Brazil – the wave motif on the Copacabana Beach promenade, or Calcadao (the word being the superlative of "calcada").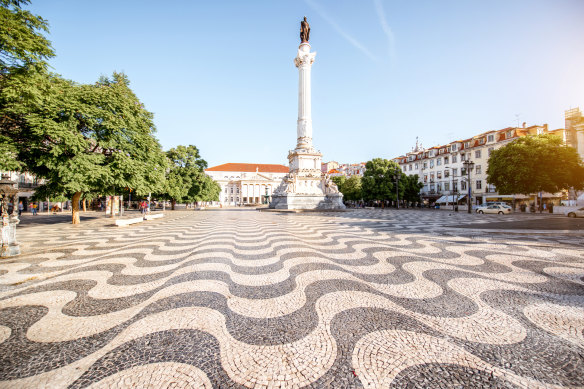 Back in Lisbon, the tradition continues today with hundreds of examples of geometric and figurative patterns featuring in the pavements. Don't miss the abstract face of Portugal's famous poet, Fernando de Pessoa in Rua Garrett, and the small mouse at the entrance to the Rato Metro station.
This tradition may be a dying art, however; only a handful of pavers (calceteiros) remain. It's hard work, and requires creativity and dexterity to cut and lay the designs. According to the Calcada Portuguesa Association, 400 pavers worked in Lisbon in 1927. These days, there are less than 20, and not all are active. To address this, a calceteiro school in Lisbon trains current and potential pavers.
In your wanderings, be sure to pay homage to the two bronze calceteiros in Praca dos Restauradores, and discover the city's many designs. Oh, and keep your eyes to the ground.